| | |
| --- | --- |
| | Craig is a second generation real estate broker in western Montana and he and his family have been intimately involved in the sale and development of real estate since 1966 in the Bitterroot. He graduated from Duke University and was involved in the family business since returning to the valley in 1984. He has successfully operated or been involved in insurance, financial services, real estate, oil and gas, log home and construction businesses in Montana, North Dakota, Louisiana or Arizona over the past 30 years. Craig has worked with many individuals and corporations to affect beneficial real estate transactions not typical of less experienced practitioners. He has acted as an expert witness in real estate litigation as well as acted as chairman of condemnation and eminent domain actions. |

| | |
| --- | --- |
| | Laura came to the Bitterroot Valley over 20 years ago by way of Connecticut, France, Spain and Aspen. An avid animal lover and horse woman, she turned to real estate following years as a successful thoroughbred breeding and racing enthusiast. Whether her clients are looking for high end ranch properties or a cozy home in town, Laura applies the same high level of dedication and consistent, serious work ethic seeking to bring every client ultimate trust, satisfaction and ease through their real estate process. |

A veteran real estate agent for 18 years, Tracy Walczak ,provides consistently high-quality service to all of her clients. Rather than going for quick sales, she prefers to build long-term relationships and treat her clients as she would close friends or family members. She seeks first to understand her clients' needs and then implements an effective strategy for making their dreams come true.

An expert negotiator, she always goes above and beyond the call of duty. Tracy puts herself on the line in order to protect her clients' interests and secure them top-dollar for their properties or save them money on their home purchases.

Tracy works hard to stay up-to-date with the local real estate market so she can guide her clients toward informed decisions. She makes herself constantly available for questions, with the aim of providing peace of mind throughout the buying and selling processes. Combining technological know-how with the time-honored values of professionalism and integrity, Tracy strives to provide her clients with an enjoyable and profitable experience buying or selling real estate in the Bitterroot Valley of Western Montana.

A military wife and daughter, Tracy has relocated numerous times across the country which allows her to better understand her clients' home moves. Outside the office, she enjoys riding her horses, spending time outdoors, and volunteering with local non-profits and business networking groups.

You are invited to register on Tracy's real estate website where you have access to ALL the property listings in both the Bitterroot Valley and Missoula. You can set up a personalized account where you will be emailed properties daily that match your criteria. If you see something you like, Tracy can provide you with additional information, photographs and pertinent documents.
Heather has spent recent years as a stay-at-home mother to her two beautiful daughters. Now that her children are entering school-age, Heather decided to pursue a career in real estate where she can passionately help others live their dreams to the fullest.
Prior to children, Heather worked in Law Enforcement as a Correctional Deputy in California. This allowed her to meet and interact with a vast array of people with differing personalities. That career path was enlightening and enjoyable, but Heather's true calling involves people and their desire to make their dreams a reality.
Heather's eclectic personality affords her clients the opportunity to take full advantage of her many useful talents. Her unique qualities makes her an exceptional resource, especially in the real estate industry. These talents range from home building and remodeling, photography and videography, home staging, and much more. Her friends have affectionately nicknamed her "Martha" (as in Martha Stewart) for her unique ability to accomplish a variety of projects. She's never dismayed by a task, and pursues every single one with passion and vigor.
Heather also has a knack for keeping up with ever-changing technology, and uses the digital age to her advantage for the sole-benefit of her clients. Staying in touch with social media allows for more exposure for clients who are selling their home, and also for buyers to move swiftly when in search of their perfect residence.
Heather's motto is "EXIT the mundane, and live your dreams." You live every day, so why not make your dreams a reality now instead of waiting for them to come to fruition? Tomorrow is not promised or guaranteed. Heather and her family are a prime example of this philosophy. Over the course of the last two years, they decided to change their living situation from California to Montana so they can better provide the lifestyle they want for their children. Now they are building their dream home in the beautiful Bitterroot Valley, and they are enjoying the fruits of their labor in the present. She can help you accomplish whatever real estate goals you have, and eagerly looks forward to your connection.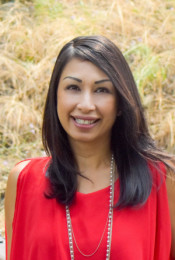 Susana Moore
My husband Clay and I met when we were 15 years old and have been together for 27 years, married for 23 years. I was able to be a stay home mom while our children Anthony, Emilio and Lillia were younger. As they grew, we coached our children in soccer, up until they went into high school. As well as with soccer, the boys played football and they all played basketball. During all the functions of being a mother and traveling for all their sporting events, those times are the times I cherished the most. Now that all my children are grown adults and the house has been quiet, Clay decided to get me a Caucasian Ovcharka puppy name Shamma, who now fills our house with the pitter patter of large paws.
What brought me to Montana 4 years ago? It had nothing to do with my husband being from Montana when he was a child, or my intense love for huckleberries. It was more about returning to the northwest, where the air was freshest, the views breathtaking, and the slower pace of country living.
My passion in life is people, and my goal is about making sure everyone I come in contact with makes the most out of their lives. I learned long ago that life is not all about me, it's more about those around you. Which is why becoming a Realtor was such a great fit for my personality and beliefs. When I moved here, I wanted to immerse myself in the community and get to know those who lived here. Which is why my spare time is spent in the community with the people I want to serve.